Cognet Occupational Safety & Health Limited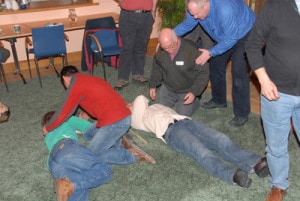 Welcome to Cognet.  We are an independent first aid & safety training provider and consultancy company, dedicated to delivering a high quality and customer- focused service to our clients. Since our inception in 1992 we have built a loyal customer base and continue to add to this list on a weekly basis.
Focused on customer care:
Dedicated to customer satisfaction, our network of trainers provide on-site training, bringing our expertise to you. We like to work closely with our clients to meet their immediate requirements and then to identify and provide solutions for their wider training needs. This approach has lead to our development of training programmes on behalf of major UK companies and organisations which have been implemented nationally.
Quality
All of our trainers are experts in their field. They all have years of hands-on experience in their chosen disciplines as well as relevant trainer qualifications and accreditation. All our trainers also work to and meet the standards laid down by Life Long Learning UK for teaching in a Further Education setting.  Our quality procedures and post-course appraisal system ensure that our training is current, relevant and effective. Our long association with many of our clients is testament to our ability to provide quality training when and where it is needed.