What our learners say….
Course presented by Paul who has passion and enthusiasm about the topics. Good knowledge about his area of expertise and inciteful anecdotes and case studies.
Dave Crawford GKN Autostructures

Excellent – Interesting, good pace, knowledgeable and friendly trainer
Stephen Dove BAE Systems

The Course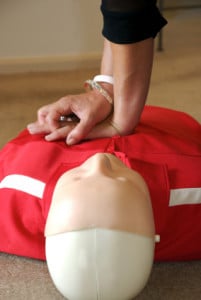 The First Aid At Work (FAW) certificate is valid for 3 years and before the expiry date first aiders will need to undertake a First Aid At Work Re-qualification course to obtain another 3 year certificate.
The re-qualification course is delivered over a minimum of 12 hours (2 days). Delegates will need to provide evidence of a current First Aid at work certificate before undertaking the course.
Although it is good practice to book your re-qualification before you current certificate expires there is a grace period of 28 days following expiry for you to re-qualify. However, after this date you will have to retake the full 3 day course in order to regain the First Aid At Work qualification.
A Choice of Certification
Cognet can provide a choice of certification for this course. Firstly, we offer our own certificates which are approved by the First Aid Industry Body. This reflects that we have held continuous Health and Safety Executive approval to deliver First Aid at Work Training since 1992, until de-regulation by the Government in October 2013.
In addition for those requiring a Level 3 Ofqual regulated course we are able to provide assessment and certification through Qualifications Network (QNUK)
Public Course Dates
First Aid At Work Re-qualification Courses
| Course | Date (s) | Times | Venue | Cost | |
| --- | --- | --- | --- | --- | --- |
| First Aid At Work Re-qualification | Dates to be advised | | | | |
Course Content:
Communication and delegation of responsibility in an emergency
Resuscitation and use of AED
Managing the unconscious casualty
Control of bleeding
Shock
Burns and scalds
Bone, muscle and joint injuries
Eye injuries
Minor injuries
Poisons, gases, and fumes
Transporting and moving and injured person
Recognising illness
Personal hygiene and cross-infection control.
The first aid box and simple record keeping
The duties of the employer
Course Duration:
12 hours training delivered over a minimum of 2 days.
Assessment is made by independent assessors using scenario based questioning and multiple-choice question paper.
Instructor / Learner Ratio:
Awarding Body / Certification:
A choice of both Cognet Occupational Safety and Health Limited and Level 3 Ofqual regulated qualifications are available:
The Cognet Occupational Safety and Health Limited course is approved by First Aid Industry Body (FAIB)
Certificate of Approval number  1179/92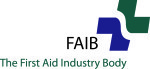 The Level 3 Ofqual regulated course is accredited by Qualifications Network (QNUK)

Course Requirements / Notes:
Delegates are required to take active participation in practical elements of the course to show competency in order to achieve certification. Delegates should dress appropriately for carrying out floor-based tasks such as CPR.
Course Delivery and Lead Times:
Cognet are specialists in delivering on-site training throughout England and Wales.
As a general rule-of-thumb we would ask for at least four weeks lead time, however we have a very customer-focused philosophy and will always try our utmost to meet your more pressing requirements.
We also run public courses for a range of our courses predominantly at venues in the West Midlands. Our current schedule of courses can be seem on our Public Courses page. If you cannot find the course you are looking for please contact us as we may be able to help you directly or by putting you in touch with another company who can.