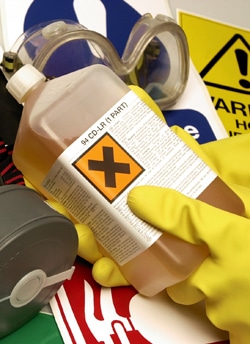 This qualification is designed for those who use substances hazardous to health at work. It introduces candidates to substances, the risks and controls available, and outlines what to expect from a control of substances hazardous to health (COSHH) assessment. The qualification will prepare employees to contribute to the safer use of hazardous substances in their workplaces.
 
Public Course Dates
Click below to view and book a place on our forthcoming courses:
Level 2 Award in COSHH Courses
| Course | Date (s) | Times | Venue | Cost | |
| --- | --- | --- | --- | --- | --- |
| Level 2 Award in COSHH Courses | Dates to be advised | | | | |
Course Content:
Definition and types of substances hazardous to health in the workplace
Health effects of hazardous substances and their causes
COSHH assessments and control options
Responsibilities imposed by the Control of Substances Hazardous to Health Regulations 2002
Course Duration:
A half-day (4 hours) course duration.
Assessment is by a 15 question multiple-choice question paper
Course Requirements / Notes:
There are no course pre-requisites for attending this course.
Course Delivery and Lead Times:
Cognet are specialists in delivering on-site training throughout England and Wales.
As a general rule-of-thumb we would ask for at least four weeks lead time, however we have a very customer-focused philosophy and will always try our utmost to meet your more pressing requirements.
We also run public courses for a range of our courses predominantly at venues in the West Midlands. Our current schedule of courses can be seem on our Public Courses page. If you cannot find the course you are looking for please contact us as we may be able to help you directly or by putting you in touch with another company who can.
Further Information
Ofqual Regulated:
Suggested Progression: