What our learners say….
Very well presented. Excellent course delivered by a great trainer. Paul is a brilliant trainer! I strongly recommend this course. The university should employ Cognet to deliver other courses.
Iain Robertson Swansea University

I didn't know too much about it before but now I am fully aware of the importance of safe practice, particularly seeing as I will have to come into contact with it
Will Davey Swansea University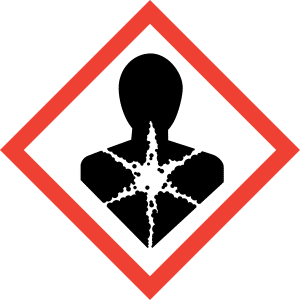 Hydrofluoric Acid
Is a colourless solution of hydrogen fluoride (HF) in water, it is one of the most dangerous acids known, and has been responsible for a significant number of deaths and life changing injuries around the world. As an acid it is considered to be a weak acid (the only hydrohalic acid that is not considered a strong acid) because of its lower dissociation constant compared to the other strong acids (that is, its propensity to break down relatively easily into component molecules).
What makes Hydrofluoric acid so dangerous is its combination with the Fluoride ion. It is this ion that causes destruction to skin, tissues, bone and possible death. Due to the aggressive fast nature of the acid, pain to the affected area(s) can be delayed from 1-24 hours.
Contact exposure can also cause systemic toxicity by being absorbed into the blood, interfering with the body's metabolism of calcium, and can cause hypocalcaemia (low calcium levels), hyperkalaemia (high potassium levels) and/or hypomagnesaemia (low magnesium levels) this can occur when as little as 25 square inches of skin have been exposed and can lead to cardiac arrest.
As a gas HF is an acute poison that can immediately and permanently damage lungs and the corneas of the eyes; exposure to the gas can also be fatal.
The Cognet Hydrofluoric Acid First Aid Training course is a half day programme designed to give you the skils and confidence to deal with a first aid emergency involving bodily contact with Hydrofluoric acid in the workplace.
Course Content:
What is hydrofluoric acid?
Industry uses
Storage
Signage
Spillages
Physiological complications
Case studies
First aid treatment
Course Duration:
This course is delivered over half a day
Instructor / Learner Ratio:
Min 1: 6     Max 1:12
Awarding Body / Certification:
Cognet Occupational Safety and Health / Certificate of Attendance

Course Requirements / Notes:
Course Delivery and Lead Times:
Cognet are specialists in delivering on-site training throughout England and Wales.
As a general rule-of-thumb we would ask for at least four weeks lead time, however we have a very customer-focused philosophy and will always try our utmost to meet your more pressing requirements.
We also run public courses for a range of our courses predominantly at venues in the West Midlands. Our current schedule of courses can be seem on our Public Courses page. If you cannot find the course you are looking for please contact us as we may be able to help you directly or by putting you in touch with another company who can.
Further Information
Ofqual Regulated:
Suggested Progression:
No