Medical Gases (Entonox and Oxygen) Instructor Course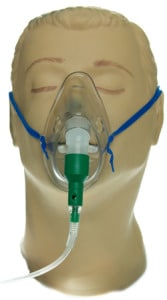 Our Medical Gases Instructor course is a half-day programme. It has been devised to give trainers the skills and in-depth knowledge to deliver Medical Gases courses to those who, because of their first aid duties e.g.  confined spaces, might need to consider the use of Oxygen therapy until the arrival of Emergency Medical Services (EMS).
Public Course Dates
Click below to view and book a place on our forthcoming courses:
Medical Gases Instructor Courses
| Course | Date (s) | Times | Venue | Cost | Book |
| --- | --- | --- | --- | --- | --- |
| Medical Gases Instructor | Dates to be advised | | | | |
Combined Anaphylaxis (Epi-Pen) Instructor And Medical Gases Instructor Courses
| Course | Date (s) | Times | Venue | Cost | |
| --- | --- | --- | --- | --- | --- |
| Anaphylaxis Awareness Instructor and Medical Gases Instructor Courses | To be advised | | | | |
Course Content:
Legal implications for the use of N2O2 and O2
Physiology of respiration and COPD
Recognition of N2O2 and O2
Uses and contraindications
Administration of N2O2 and O2
Equipment and maintenance
Health and Safety
Record keeping
Course Duration:
A half-day course of approximately 3.5 hours
Instructor / Learner Ratio:
Awarding Body / Certification:
Cognet Limited

Course Requirements / Notes:
This course is specifically aimed at current first aid trainers
Course Delivery and Lead Times:
Cognet are specialists in delivering on-site training throughout England and Wales.
As a general rule-of-thumb we would ask for at least four weeks lead time, however we have a very customer-focused philosophy and will always try our utmost to meet your more pressing requirements.
We also run public courses for a range of our courses predominantly at venues in the West Midlands. Our current schedule of courses can be seem on our Public Courses page. If you cannot find the course you are looking for please contact us as we may be able to help you directly or by putting you in touch with another company who can.
Further Information
Ofqual Regulated:
Suggested Progression:
No