Including Basic Life Support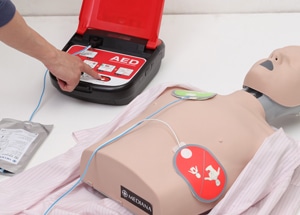 This course is designed for those who what to be certified Automated External Defibrillator (AED) operators.
By the end of the course the successful learner will be able to safely use an AED, will have the knowledge of how and why the defibrillator works, basic anatomy and physiology of the heart and the importance of the chain of survival.  The course also includes a basic life support (CPR) update and advised incident reporting procedures.
We use a variety of AED trainer units (Zoll AED plus, Mediana Hearton AED A15, Cardiac Science, G3Philips Heart start) throughout the course, but emphasis will be placed on the type of AED unit that you have access to. We can advice on the purchase of AED units should you need any help.
As a training provider in this important subject area we meet all the guidelines as laid down by the UK Resuscitation (Resus) Council, including the fact that we have a company clinical director with a NHS paramedic background. We are also able to offer Critical Incident debriefing, should you need it following post incident use of an AED. This is a free service that we offer our clients who are holding an in date Cognet AED qualification.
Our qualification meets the UK Resus Council guidelines and is valid for 12 months; all learners are given a course book "CPR & AED First aid Made Easy" for future reference.
AED requalification courses are also available.
Course Content:
Automated External Defibrillator (AED) use
Basic anatomy and physiology
Causes of cardiac arrest
Cardio-pulmonary Resuscitation (CPR)
The unconscious casualty
Reporting
Training and assessment methods
Course Duration:
A half-day course of at least 3 hours duration
Instructor / Learner Ratio:
Awarding Body / Certification:
Cognet Occupational Safety and Health

Course Requirements / Notes:
There are no formal course requirements to attend this course.
Delegates are required to take active participation in practical elements of the course to show competency in order to achieve certification. Delegates should dress appropriately for carrying out floor-based tasks such as CPR
Course Delivery and Lead Times:
Cognet are specialists in delivering on-site training throughout England and Wales.
As a general rule-of-thumb we would ask for at least four weeks lead time, however we have a very customer-focused philosophy and will always try our utmost to meet your more pressing requirements.
We also run public courses for a range of our courses predominantly at venues in the West Midlands. Our current schedule of courses can be seem on our Public Courses page. If you cannot find the course you are looking for please contact us as we may be able to help you directly or by putting you in touch with another company who can.
Further Information
Ofqual Regulated:
Suggested Progression:
No
Annual Update (recommended)