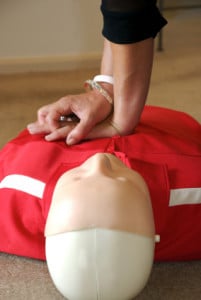 This course is for learners who wish to update or refresh their Basic Life Support (BLS) skills, it also for those who have a duty of care such as health care professionals i.e. dental staff, nurses and doctors. The course can also be used as part of your continual professional development (CPD) program.
The course will not only refresh your practical skills but will also update you on any resuscitation guideline changes within the previous twelve months.
Course Content:
Assessing the casualty and situation
Cardio Pulmonary Resuscitation
The unconscious casualty
Choking
Course Duration:
A half-day course of at least 3 hours duration
Instructor / Learner Ratio:
Awarding Body / Certification:
Course Requirements / Notes:
Delegates are required to take active participation in practical elements of the course to show competency in order to achieve certification. Delegates should dress appropriately for carrying out floor-based tasks such as CPR
Course Delivery and Lead Times:
Cognet are specialists in delivering on-site training throughout England and Wales.
As a general rule-of-thumb we would ask for at least four weeks lead time, however we have a very customer-focused philosophy and will always try our utmost to meet your more pressing requirements.
We also run public courses for a range of our courses predominantly at venues in the West Midlands. Our current schedule of courses can be seem on our Public Courses page. If you cannot find the course you are looking for please contact us as we may be able to help you directly or by putting you in touch with another company who can.