Paul was very good answering all questions we had. Happy to help and made training enjoyable
Stacey Williams Individual Care Services

Aimed at the correct level, well spaced out, gave us the relevant information, gave plenty of time for questions. Everything was explained clearly.
Bryony Jones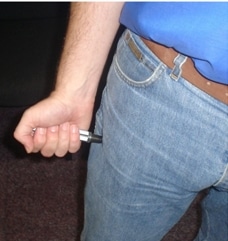 According to the Royal College of Physicians, the incidence of allergies in the UK has trebled in the last 20 years, giving this country one of the highest rates of allergy in the world.  Severe allergic reactions are therefore also on the increase, and one in 70 children are now affected by peanut allergy, one of the common causes of anaphylaxis.  Those working in child care professions are therefore increasingly likely to be caring for a child who carries or has been prescribed an auto-injector containing adrenaline as a rescue treatment.
Although older children, adolescents and adults should be able to self-diagnose and self-administer an auto-injector (EpiPen® /Jext®) in the event of an anaphylactic reaction, those working in the public arena such as police, care workers, the catering industry or airline staff, and others with responsibility for first aid in the workplace may also one day find themselves in the situation of having to manage an anaphylactic first aid situation.

First aid at work training does not include the administration of any medications, and while allergy sufferers and their parents or guardians receive advice and training in the use of auto-injectors, care workers, child carers and first aiders rarely do.  As the social care sector continues to expand, and with the growth in the child care industry also continuing, many first aiders feel that they need additional training to meet the needs of their clients.
We suggest that a work based risk assessment should be carried out and anyone expected to manage an anaphylactic emergency should be trained to a competent level in order to act safely and appropriately.  This course is designed with exactly that in mind.  The course aims and objectives are for the delegate to understand what anaphylaxis is and how it relates to a normal mild allergic reaction; common triggers for attacks; signs and symptoms of a reaction; risk assessment and working with care plans; administration of an auto-injector and first aid treatment.
Course Content:
Understanding what anaphylaxis is
Common causes of anaphylaxis
Signs & symptoms
Management of anaphylaxis
Safe use of the auto injector Action pla
Instructor / Learner Ratio:
Awarding Body / Certification:
Cognet Limited

Course Requirements / Notes:
Delegates are required to take active participation in the practical demonstrations of the auto-injector trainer in order to achieve certification.
Course Delivery and Lead Times:
Cognet are specialists in delivering on-site training throughout England and Wales.
As a general rule-of-thumb we would ask for at least four weeks lead time, however we have a very customer-focused philosophy and will always try our utmost to meet your more pressing requirements.
We also run public courses for a range of our courses predominantly at venues in the West Midlands. Our current schedule of courses can be seem on our Public Courses page. If you cannot find the course you are looking for please contact us as we may be able to help you directly or by putting you in touch with another company who can.
Further Information
Ofqual Regulated:
Suggested Progression:
No